Animal Welfare Party supporters took the streets of Tower Hamlets on Sunday aboard the party's Mayoral Election Battle Bus – led by AWP candidate for Mayor, Vanessa Hudson.
Around 20 supporters, some in animal costumes, some in the party's distinctive 'A' t-shirts boarded the bus for a three and a half hour tour across the borough.
The aim of the trip was to help raise awareness of the party's standing in the upcoming Mayoral Elections and with their brightly decorated bus in the party's pink branding, dancing animals and carnival atmosphere, passers-by enjoying the Sunday's warm temperatures couldn't help but take notice.
"We've had such as amazing response everywhere we've travelled across the borough today" said Vanessa Hudson, the party's candidate for Mayor in this Thursday's election. "People have been waving, cheering and taking photos along every street we've travelled from Bethnal Green to the Isle of Dogs to Whitechapel. It's been a fantastic reception. We've even had people stopping and performing dances for us in the street. In a time when disillusionment with politics abounds, we hope we're doing our bit to buck the trend and show that politics can be fun too!"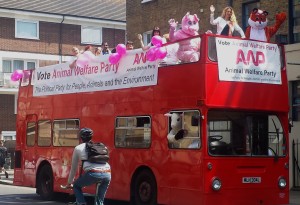 Vanessa Hudson, Animal Welfare Party candidate for Mayor and supporters takes to the streets of Tower Hamlets aboard the party's 'battle bus' on Sunday.
For more information contact AWP Media on 07759704073 or email: info@animalwelfareparty.org
The Animal Welfare Party, Registered Address: Animal Welfare Party, 71 -75 Shelton Street, Covent Garden, London, WC2H 9JQ
NOTES
1. About the Animal Welfare Party
The Animal Welfare Party, formerly Animals Count, was established in 2006. It forms part of a network of over 15 parties working internationally to create a society in which the needs of people, animals and the environment are balanced. Vanessa Hudson is the party's leader and candidate in the Tower Hamlets Mayoral Election. Her key policies for Tower Hamlets include :
A Safer, Cleaner, Greener Borough

A Healthier Community Living More Sustainably

Housing to be Proud Of

A Future to Look forward To
For information visit http://www.animalwelfareparty.org/
2. Previous and Current Elections
The party has contested four elections to date, with the Tower Hamlets Mayoral Election being the fifth.
In the 2014 EU Parliament election the party contested the London constituency and won 21,092 votes.
More information at animalwelfareparty.org
3. About Vanessa Hudson, the AWP Candidate for Mayor
A Producer / Director in the media industry by profession, Vanessa has been Leader of AWP since 2010. She has lived in Bethnal Green for over seven years. Vanessa believes that balancing the needs of the environment and animals in our daily lives is one the great moral imperatives of our time. Vanessa enjoys working with other animal welfare parties from around the world and takes great encouragement from the successes some of them have already enjoyed at national and EU Parliament level. In her spare time, she is a keen distance runner.