TOWN COUNCILLOR ALSAGER, CHESHIRE: Jane Smith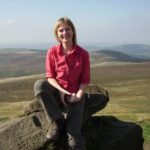 Jane is a psychotherapist by training, a vegan, a mother of three boys and a town councillor in Alsager, Cheshire since election in May 2015. She studied at the University of Angers (France) and has postgraduate degrees from Loughborough University and the University of Manchester. Jane runs Compassion in World Farming's Cheshire Group and her interests include hiking with her two rescue dogs, meditation and spending time in nature.
During her time as a town councillor, Jane has focused on animal welfare including securing a ban on goldfish being given as fairground prizes and campaigning against the badger cull in Cheshire. She has also lobbied for the resettlement of Syrian refugee families in the area and is actively involved in securing funding for a neglected Bronze Age burial site to be protected and re-planted with native woodland trees.