Election issues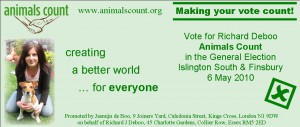 Animals Count's manifesto mostly deals with the protection of animals, but as a Prospective Parliamentary Candidate, Richard Deboo also receives questions about our stand on other topics.
In addition to questions from the Fund for the Replacement of Animals in Medical Experiments (FRAME), Richard Deboo completed a questionnaire for 'TheyWorkForYou', answered questions for 'Peace in Kurdistan' and Stop the War Coalition, and replied to a range of other requests for his views.
6 May General Election announced
Today the General Election (GE) has finally been announced and we can now campaign officially!
As expected, the GE will be held on 6th May which is the same day as the local elections. Richard Deboo, on behalf of Animals Count, will contest the Islington South and Finsbury constituency. Several volunteers have already helped distribute leaflets to raise awareness but we are going to step up our efforts significantly over the next few weeks in the area.
Richard Deboo, our Parliamentary Candidate and Animals Count Deputy Leader, is pictured here at our Fourth Party Conference on 27th March. Watch Richard's inspiring keynote address.
Events We would like to invite you to our Manifesto Launch and Press Conference at 5pm on 17th April at Housmans Bookshop, 5 Caledonian Road, Kings Cross, N1 9DX.
Richard Deboo will take part in a hustings event 'Ask your Candidate' organised by Greenpeace on Monday 19th April from 6.30-8.30pm at City University, Room BG02, University Building, 10 Northampton Sq, London EC1V 0HB. Most parties are unlikely to mention the massive impact of livestock farming on climate change. RD will mention this link as one of the biggest contributors to climate change.
On 23rd April, Jasmijn de Boo will give a presentation about Animals Count at the conference 'Animal(s) Matter(s): the future of critical animal studies' at the University of Liverpool.
On Sunday 25th April, veterinarians Andrew Knight and Lucy Fish will be offering free veterinary dog consultations in Barnard Park, Islington from 11am-1pm. Animals Count is not just talking about our policies; we put them into practice and show that there is public support for them. There will be fun things for kids to do as well (colouring animal masks, etc.).
Leafleting We are putting the finishing touch on the election leaflet which will be sent to the printers in the next day or two. We desperately need your help with distributing leaflets! Any help would be much appreciated. You could cover a street, or an area, for a couple of hours or spread it out during several days. Rebecca is kindly coordinating the leafleting by maintaining a map showing which areas have been covered by different people. Please contact us if you are able to help. We also need to deliver the 'Free veterinary dog consultation' flyers in the area around Barnard Park between next week and 23rd April. Please help us spread the word!
Grueling mountaineering challenge to raise funds for Animals Count After successfully completing the UK's Vegan 3 Peaks Challenge in 2009 and raising over £1,300 for Animals Count's 2009 EU election campaign, veterinarian Andrew Knight needed a bigger challenge. Accordingly, on the 5th of June, 2010, he and eight team mates are taking the next logical step: the Vegan 15 Peaks Challenge! They will cover 48 km horizontally, and no less than 4,000m vertically. And they must do it all in a single day… Yet, not even this is enough challenge for Team Vegan! To deliberately add to their burdens they will also complete the Yorkshire 3 Peaks Challenge on the 11th of April, which requires them to hike an additional 38K, and climb another 1,600m up and down. Andrew and Chloe are raising funds for Animals Count's election campaign.
PLEASE SPONSOR THESE BRAVE, BUT SLIGHTLY MAD, PEOPLE BY VISITING: http://www.animalscount.com/join/donate/
Animals Count has been nominated again in the category Best Campaigners in the Bristol Eco-veggie Awards. Please vote for Animals Count once in April and once in May:http://bristol.ecoveggiefayre.co.uk/awards-vote Thank you very much for your support!
The animals count on you. Now is the time to make a difference…
Animals Count manifesto launch
On 17 April, at 5pm, Animals Count will be launching its General Election Manifesto at Housmans Bookshop, 5 Caledonian Road, Kings Cross, London.
Housmans provides the right platform for Animals Count to launch a radical but realistic political manifesto. The bookshop specialises in books, zines, and periodicals of radical interest and progressive politics. They stock the largest range of radical newsletters, newspapers and magazines of any shop in Britain.
Richard Deboo, Animals Count Deputy Leader and Parliamentary Candidate for Islington South and Finsbury, commented: "I am very excited about our manifesto, our policies, our philosophy, which together represent a practical and achievable proposal for a better world, a future in which everyone is entitled to their share, where the abundance created by our economy and the natural fruits of the earth are shared fairly amongst everyone.
We will stand in this election not only because it is our democratic right to do so, but also because it is absolutely right for us to do so. We speak for everyone and democracy must mean that everyone is heard, and so our voice is the voice of all in the community.
We call for genuine partnership, collaboration and co-operation between all members of our community, and a genuine recognition and protection of those non-humans in our world whose personhood has been denied – against all scientific and moral evidence – for too long and whose rights therefore should be established in law and fully endorsed by a system of social justice that is all encompassing and all-embracing."
Our full manifesto can be read here.
Richard Deboo marks the start of the 2010 General Elections campaign
2010 General Elections – Ensuring an animal-friendly outcome
During the next General Elections, which will probably be held on 6 May 2010, Animals Count will stand in a closely-contested constituency in London. Like many voters, we are concerned about animal welfare and believe therefore that it is a very positive move for Animals Count to present these issues on the political stage to the electorate.
Animals Count recognises the value of co-operation and dialogue in the political arena and would not wish to stand against an incumbent MP with a positive stance and policy commitments on animal welfare issues and would indeed actively encourage voters to support genuine animal-friendly candidates. At the same time, of course, Animals Count has a responsibility to make representation to the electorate where a candidate has a poor or negative position on these matters.
Animals Count has approached candidates in several selected constituencies to gauge their support for animal protection issues. We hope to have some leverage before and after the elections to influence the candidates to adopt more animal issues in their policies.
Previous elections:
2009 European Parliament elections
2008 London Assembly Elections
Other political activism
You can help animals by writing to your MP or MEP to ask them to sign petitions. Current Early Day Motions (EDM's) and new EDM's on animal issues can be found here