Along with our counterparts in the Netherlands, Germany, Spain, Portugal, Sweden, Cyprus and many other countries, the Animal Welfare Party of the UK is attempting to make history for the animals by returning dedicated representatives for animals to our respective country parliaments.
To many in the movement, parallels can be drawn between our fight for animal rights today and those who stood up against slavery in the 1800's and those who fought and continue to fight against sexism.
Winning political representation for animals in parliament would be a major step in the fight against speciesism and one we're determined to see happen.
Our party has gone from strength to strength since we were formed in 2006 and we know our goal is achievable – but we're going to need the support of the whole international animal protection community to do it. We need you and your friends and your friends' friends to help make our vision a reality – to help write history. Our movement may not have huge financial resources but we do have compassion, empathy, energy, creativity and talent and we know that when we come together to use these, we can be unbeatable.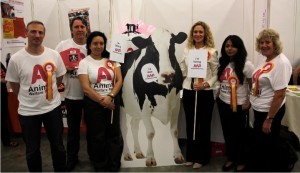 No matter where you are in the world, if you think our goal is one worth fighting for, there are ways you can play your part today.
You can help make history by:
We look forward to working with you!