Animal Welfare Party's is standing a party list of seven candidates in the London Region in the upcoming EU Parliament elections on 23rd May.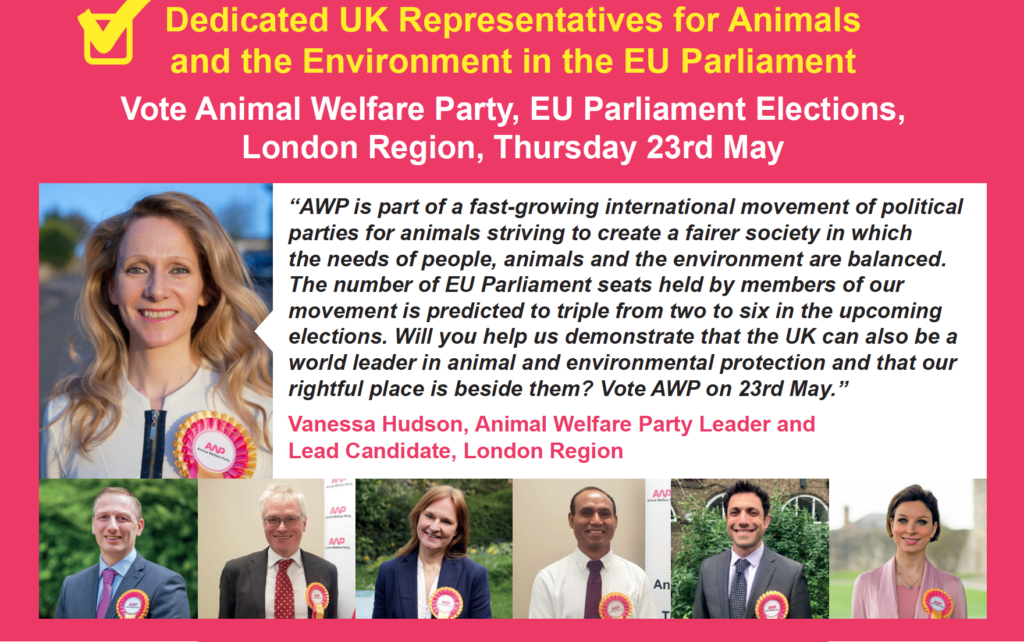 AWP's candidates for the London Region are: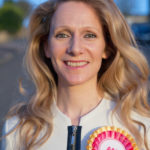 Vanessa Hudson 
Vanessa Hudson is the Leader of Animal Welfare Party and the Lead Candidate for AWP in the London Region. The party last contested the region in the 2014 EU elections, also with Vanessa as lead candidate, achieving 21,092 votes. Vanessa is a media producer by profession. Born in Sheffield, her family moved to rural North Nottinghamshire when she was seven. A chicken slaughterhouse located in the village was instrumental in the family's turn to vegetarianism shortly after arriving. A lesson by a visiting speaker at her secondary school in Tuxford, introduced her to the concept of living without dairy and eggs – a lesson she describes as the most important in her life. After studying at the University of Liverpool, Vanessa began a career in media in Hong Kong, then moving to Sydney and East London. She divides her time between London and Nottinghamshire and has been vegan for 25 years.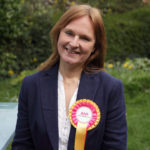 Jane Smith
Jane Smith is Deputy Leader of Animal Welfare Party and the UK's first-ever elected animal rights representative, serving as an AWP councillor in Alsager, Cheshire.
Originally from Stoke-on-Trent, Jane has since lived in the Loire Valley, London and Manchester before settling in Cheshire with her partner, three sons and two rescue dogs.
A psychotherapist by training, Jane has been passionate about animals' rights since her teens. She is a co-ordinator for Wounded Badger Patrol Cheshire and has campaigned extensively against the badger cull, game shooting and illegal fox hunting over the past few years.
Her 'hedgehogs motion' (2018) saw Alsager become the UK's first town council to stipulate wildlife tunnels in every new wall or solid fence.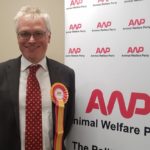 Sam Morland
Sam's family moved to London when he was seven and he has variously lived parts of his life in South, East and West London, as well as stints abroad, for work or study, in France, Switzerland and the US.
Of his decision to stand on the AWP list for London in the EU elections he says "I believe there should be much more focus at the EU level on the welfare of the multitude of sentient animals who share the European area with the 500 million humans. It has been estimated that in Britain alone, over one billion land animals are killed in slaughterhouses every year. The horrific experiences of farmed animals could be significantly improved through regulation and legislation. Our society should not be based on the exploitation of our fellow creatures."
As an Arsenal fan, Sam has his fingers crossed for 29th May. But before that, he asks for you to vote for the AWP list in London on 23 May.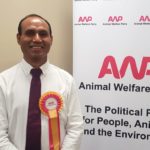 Ranjan Joshi
Ranjan graduated in civil engineering from the Indian Institute of Technology, Roorkee, India and subsequently obtained an MBA from the University of Nottingham, UK. He currently works as a business manager.
A vegan for seven years, he is passionate about animal rights, women's rights and civil rights and strongly believes thatinequalities and oppressions are interlinked and that, in a just and fair society, t the rights of animals and rights of humans should sit side by side.
A regular attendee of the International Animal Rights Conference, Luxembourg and of London Feminist Conference, he has also given talks in the London Vegans' forum and has also been interviewed by Supreme Master Television – an exclusive vegan TV channel. Outside of work and activism, Ranjan loves vegan cooking and baking, traveling, hiking, reading, live music, poetry, science, walking, meditation and spending time with three of his favourite animals – cows, rabbits and cats.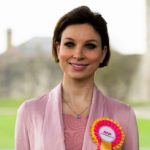 Mina da Rui
Originally from France, Mina has had an interest in politics, social
issues and nature for as long as she can remember. During her time spent travelling and volunteering, Mina encountered many unforgettable animals who suffered in various ways because of human activities, and, leaving behind a creative career, she decided to study law and work towards becoming an advocate for animals in the legal field; she is currently finishing a law degree at SOAS. She cannot think of a better reason to wake up each day than to be a voice for those who have none, and stand up for justice and compassion for all. She stood as a candidate for Animal Welfare Party in Rochester in Local Elections in May and achieved 4.1% of the vote – an amazing achievement for the party's first standing
in the area.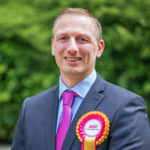 Jon Homan
Jon has served on Animal Welfare Party's Committee of National Officers since 2013 and has been a candidate for the party in several elections, including in the 2014 EU elections in the London Region. He believes strongly in ending all animal cruelty and feels establishing a dedicated voice for animals in the political arena is essential. A trained astrophysicist, Jon is an IT Consultant by profession. Jon has two children and has lived in the constituency of Hackney North and Stoke Newington for 19 years.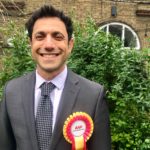 Simon Gouldman
Simon runs a website creation business serving clients across Europe and the US. After hearing party leader, Vanessa speak at a 2014 event in North London, he decided to get involved in the party's 2014 EU Election campaign and helped spread word about the party's standing across London. Simon brings in leading expertise on sustainability in business and food certification schemes. Rather than relying on the consistent ethical choices of billions of consumers, if elected Simon aims to make impact with smarter subsidies which promote biodiversity, and will do everything in his power to save our oceans.
Fundraising
The deposit to stand in the London Region was £5000 and, although we would very much have liked to stand in other regions (there are 12 in total), we did not have the additional funds to do so.
The party is contesting the EU elections as part of Animal Politics EU – a group of 11 European parties for animals. We have a shared vision and shared
Manifesto
which we launched at the EU Parliament in Brussels on April 4th.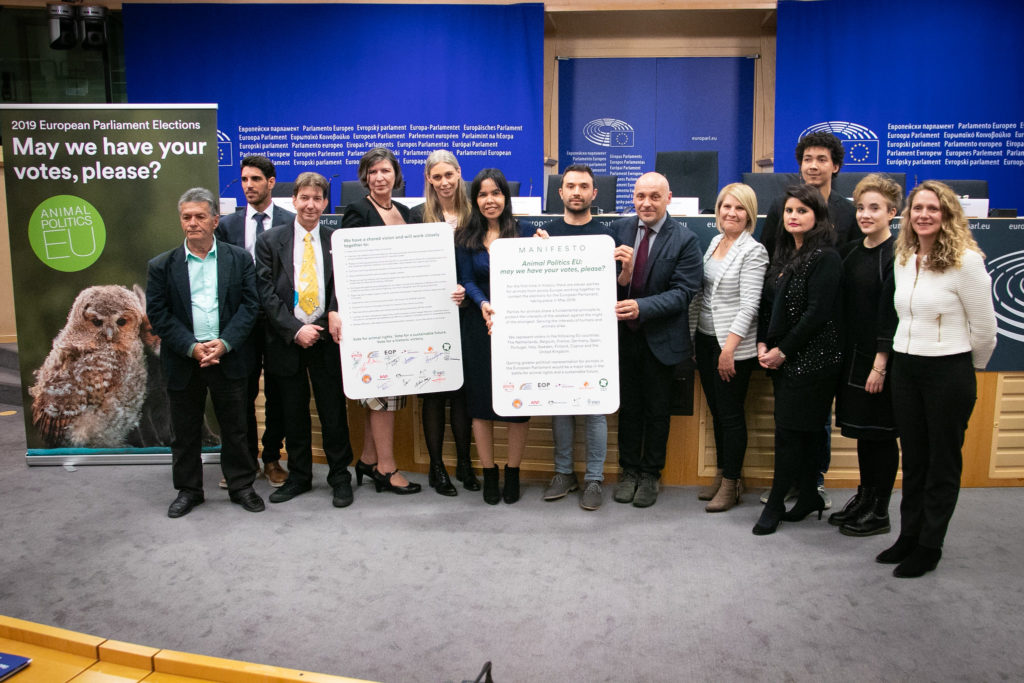 It is the first time in history that a group of 11 parties has contested the EU elections together and the number of representatives for animals in the EU parliament is
predicted to triple
following the May elections.
View and download our EU Elections Leaflet
here
.