Alsager, Cheshire: Animal Welfare Party has today gained its first representative in the UK when Alsager town councillor, Jane Smith switched parties from the Green Party to AWP.
At midday today, Smith, a serving councillor on Alsager Town Council in Cheshire made history when she announced her decision to switch from the Green Party to Animal Welfare Party, effectively becoming AWP's first representative in the UK.
Smith, who has served on the council since 2015 and who runs Compassion in World Farming's Cheshire group said in a statement "I have made this decision because I believe it is important that we begin to acknowledge and address the inherent unfairness of our human-centric decision making bodies. Although the step I take today may appear small, I believe it is of huge symbolic significance."
"We share our world and our natural resources with so many other species," she added, "and it is only right and fair that those other animals and their habitats are properly represented and considered in our decision making."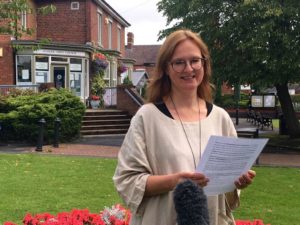 Animal Welfare Party was established 10 years ago and has contested ten elections. The party is based on the highly successful Dutch 'Party for the Animals' Partij voor de Dieren (PvdD) who hold five seats in the Dutch House of Representatives, two in the Dutch Senate and one in the European Parliament.
In May 2016 Animal Welfare Party contested the Scottish Parliament and Northern Ireland Assembly elections for the first time, in addition to contesting the London Assembly Elections in which the party won 25,810 votes (1%).
In this year's General Election, Animal Welfare Party contested three London constituencies while veterinarian and Professor of Animal Welfare, Andrew Knight stood for AWP in Maidenhead – a vocal opponent of Theresa May's plans to offer MP's a free vote on repeal of the fox hunting ban. Actor, Peter Egan lent support to his campaign.
In response to Smith's move to AWP, Party Leader, Vanessa Hudson said "The UK has a proud history of thought leadership in animal welfare and it's high time animals had dedicated representatives in our decision making bodies. Only that way can their needs and interests begin to be properly protected. With today's news, AWP takes its first steps to joining our sister parties in the Netherlands, Germany, Portugal and Australia who have already achieved that for animals."
"We are delighted that Jane has joined us enabling the UK to take this important step.' Hudson continued, "We welcome her into our party and look forward to supporting her continued good work for people, animals and the environment in Alsager and beyond."
Watch the video of Jane Smith's announcement here.
Find out more about AWP's first representative Jane Smith here.