Animal Welfare Party stood in the 2019 Local Elections in Medway and Cheshire.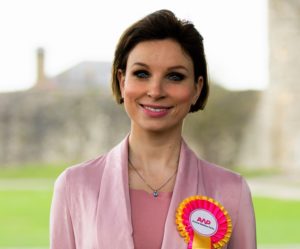 Mina da Rui stood for Animal Welfare Party in Rochester West – the first time an animal party has stood in Medway. We're thrilled that 229 voters (4.1%) voted for Mina / Animal Welfare Party – a truly fantastic result.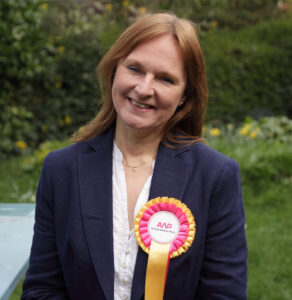 AWP Deputy Leader, Jane Smith defended her Town Council seat in Alsager West and also stood for Cheshire East Borough Council. Although Jane didn't win a seat on the Borough Council she did receive just under 5% of votes – another brilliant result.
However, in the Town Council election, Jane retained her seat, with 357 votes (9.8%) – a record vote share for our party and more than both the Conservative and Labour candidates. Her retention of the seat now marks the first time an animal party has won a council seat in a UK election.
Jane says: "This is a wonderful victory for Animal Welfare Party and our wider animal politics movement, and we've now proven that, given the opportunity, people can and will vote at the ballot box for animals' rights to be heard in human decision-making. I'm so thankful to everyone who helped out in this David-and-Goliath election campaign. We're at the vanguard of a huge international movement for change, and we're breaking down barriers all the time in representing animals and their rights in human politics. I'm really looking forward to working for people, animals and environment in Alsager and beyond over the next four years – and I'd also like to encourage anyone wanting to see animals' rights represented in our political systems to stand up for what they believe in and run for office for Animal Welfare Party."
Our heartfelt thanks to all those in and around Alsager, across the UK and around the world who have supported Jane and contributed to this success!