Animal Welfare Party's Vision for London – A World Leading City for Animal Welfare
AWP believes Londoners would be proud to live in city that is considered a world leading city not only for people but for animal and environmentally friendly living too.
Our vision for London includes:
Creating an Animal Welfare Committee within the London Assembly recognising the place of London's 9 million plus animals in our society

Rethinking procurement policy so that, across the GLA family, public funds are not spent on foods, drinks, cleaning and household products that have a negative effect on human health, the environment or animal welfare – here or anywhere else in the world

Ending the use of pesticides, herbicides and chemical fertilisers in London's municipal spaces

Promoting London's animal-product-free economy with festivals, events and incentives for businesses operating without harm to animals and the environment

Improving the health of Londoners, saving NHS funds, protecting the environment and global food security by promoting healthy plant-based diets across the capital

Ensuring sustainable, plant-based options are available on every menu and at every meal in schools, nurseries, care homes and hospitals

Seeking to phase out the sale of both foie gras and fur products across London

Humane management of London's fox, deer and other wildlife populations

Championing the phasing out of experimentation on 300,000 plus animals per year at London's universities – with real support for the development of world leading alternatives and a Mayor's Award for Innovation in this field

Tackling obesity and increasing the life expectancy of London's schoolchildren by working to restrict licences for fast food establishments close to schools

Joined-up thinking across the capital on re-cycling and re-use with the aim of making London a world example of recycling best practice

Incentives for shops and businesses reducing food waste

Introducing a London-wide pet abandonment prevention plan – taking in public education and expectation management on pet ownership, improving access to animal health care, spaying and neutering, encouraging the re-homing of existing animals

Respect for and understanding of the human / animal bond and 'cradle to grave' ethos of good pet stewardship pushing for vastly increased provision for pets in social housing developments and the private rented sector

Lobbying for the replacement of the Dangerous Dogs Act and introducing a London wide plan to target irresponsible owners who deliberately train animals to fight and attack

Working to protect animals in London's entertainment and sports industries with a plan for the phasing out of greyhound racing in the capital

Funding for city farms to operate as animal sanctuaries where animals are not sent to slaughter

Championing the introduction of independently monitored CCTV in London slaughterhouses
About Our Candidates for the London-Wide Assembly Election, Thursday 5th May
Vanessa Hudson, Lead Candidate, AWP, London-wide Assembly Election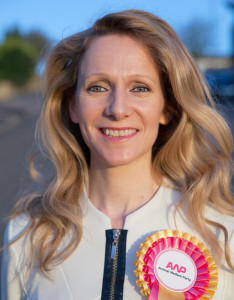 Leader of AWP since 2010, Vanessa believes that ending speciesism is one of the great moral imperatives of our time and that winning political representation for animals is a crucial step in achieving that goal. Vanessa enjoys working with other animal welfare parties from around the world and takes great encouragement from the successes some of them have already enjoyed at national and EU Parliament level.
A Producer / Director in the media industry by profession, Vanessa was born in Sheffield, and grew up in Nottinghamshire before moving to London by way of Hong Kong and Sydney. This year she celebrates her 21st year as a vegan.
Previous elections contested for AWP:
2014 EU Parliament Elections (Lead Candidate, London Region)
2015 General Election (Holborn & St. Pancras Constituency)
2015 Tower Hamlets Mayoral Election
See a 2015 BBC interview with Vanessa Hudson here.
Jon Homan, Candidate, AWP, London-wide Assembly Election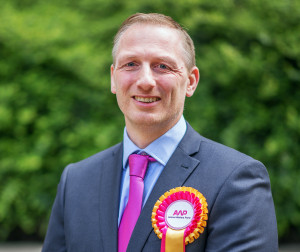 Jon has served on Animal Welfare Party's Committee of National Officers since 2013. He believes strongly in ending all animal cruelty and feels establishing a dedicated voice for animals in the political arena is essential. A trained astrophysicist, Jon is an IT Consultant by profession. Jon has two children and has lived in the constituency of Hackney North and Stoke Newington for 15 years.
Previous elections contested for AWP:
2015 General Election (Hackney North & Stoke Newington Constituency)
Alex Bourke, Candidate, AWP, London-wide Assembly Election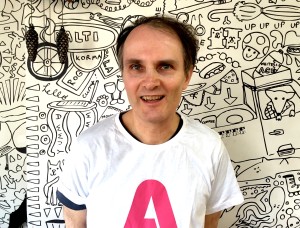 Alex Bourke is an Author and Publisher of the 'Vegetarian Guides' series of books.
Previous elections contested for AWP:
2014 EU Parliament Elections (Candidate, London Region)
Linda Seddon, Candidate, AWP, London-wide Assembly Election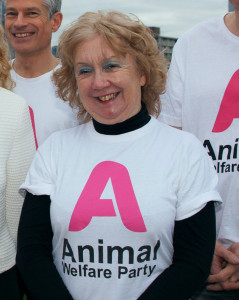 Linda is a Londoner who has campaigned against animal cruelty for most of her adult life, participating in marches and campaigns during the 70s and 80s for the likes of Save the Seals, Stop Animal Tests at Porton Down, and many other worthy causes.
Linda volunteered in the very first Beauty Without Cruelty store in Chiltern Street and since then, her passion for animal rights has intensified as she has grown more informed and engaged on the issue. In addition to volunteering for AWP she has also volunteered for BUAV, PETA, WAP and Compassion in World Farming.
"I feel honoured to stand as a candidate for AWP" she says, "as the party represents everything that I believe in. Animals feel pain and terror just like us – they are not ours to torture and abuse. We have the power, the technology, and the intelligence to torture or liberate them, and with that power comes responsibility. Animals do not have a voice, so we must speak for them."
This is Linda's first election for AWP.
Zsanett Csontos, Candidate, AWP, London-wide Assembly Election
Originally from Hungary, Zsanett has lived in London for almost a decade. She studied Law briefly in Hungary before relocating to London and gaining a degree in Film-making. Becoming increasingly concerned with animal rights, social justice and environmental issues and their human connection, Zsannett now studies International Development at the London School of Economics.
"I believe that human, animal and environmental struggles are inseparable and solutions must be sought accordingly" says Zsanett, "That is also why I joined the Animal Welfare Party; because they have proposed to take a holistic approach to our existing and most pressing problems."
This is Zsanett's first election for AWP.