Donations towards Animal Welfare Party's Tower Hamlets Mayoral Election Campaign Urgently Required
Will you help us speak up for animals and the environment in the political arena?
Vanessa Hudson, Animal Welfare Party Leader is standing as a candidate in the Tower Hamlets Mayoral Election which takes place on Thursday 11th June.
Although our deposit and leaflet printing is now covered, we're still urgently fundraising to help us cover the many other crucial activities that go into creating a successful election campaign – advertising, marketing and promotion – all things that help get the word out to voters about our party and what we're trying to achieve for animals and the environment. We'll be taking and putting to good use all donations that we receive up until 11th June.
About our candidate:
Vanessa Hudson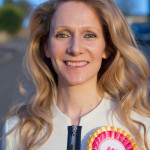 Leader of AWP since 2010, Vanessa believes that ending speciesism is one of the great moral imperatives of our time and that winning political representation for animals is a crucial step in achieving that goal. Vanessa enjoys working with other animal welfare parties from around the world and takes great encouragement from the successes some of them have already enjoyed at national and EU Parliament level.
A Producer / Director in the media industry by profession, Vanessa was born in Sheffield, and grew up in Nottinghamshire before moving to London by way of Hong Kong and Sydney. This year she celebrates her 20th year as a vegan.
Will you help our campaign team speak out for animals and the environment in the way that we want to? 
We know so many people out there care about animal welfare issues and elections are our opportunity to demonstrate just how important animal issues are to so many. But we do need all the financial help we can get.
Donating whatever you can now will help us to build a truly successful election campaign – one that does the animals proud.
So, please, spare whatever you can today to help us realise our vision for animals – a vision in which we all – people, environment and animals stand to gain.
Sincere Thanks
The AWP Team
Donate online via PayPal
You can donate online via PayPal, the secure online electronic payment system. It's quick to use. Just click on the button below
Donate by Bank Transfer
You can make a bank transfer directly to our Co-operative bank account:
Payable to: Animals Count
Sort code: 08-92-99
Account number: 65231694
On behalf of the animals, a huge thank you for helping to make this happen.